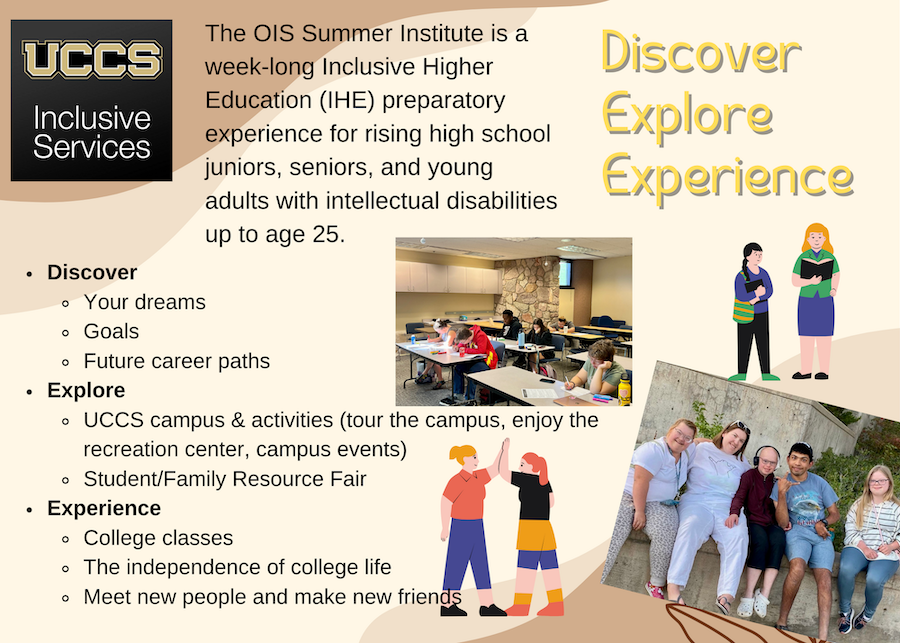 Thank you for your interest in being considered for the one-week Office of Inclusive Services (OIS) Summer Institute!

We encourage students to complete this application with the minimal required support but should review answers with a trusted family member, teacher, or friend before submitting. Note that overnight accommodations are not included in this experience.

Application Priority Deadline: Rolling Admissions until all spots are filled.
Summer Institute Dates: June 5-9, 2023 or June 26-30, 2023. All spots are filled!
Times: 9 am-3 pm
Cost: FREE
Contact: Julie Harmon; jharmon@uccs.edu
Overnight accommodations are NOT included.

Entrance Criteria:
Age 17-25
Desire to be as independent as possible.
A desire for post-high school education and training.
Interest in having a college experience
Students must be able to follow directions with support and respond positively to redirection
Needs to be relatively independent with no aggressive or wandering behaviors.
Required skills of independence needed for acceptance include the ability to INDEPENDENTLY:

Take care of all personal hygiene.

Basic use of cell phone
NOTE: The Summer Institute is a separate admissions decision from our 4-year certificate program. The Summer Institute is a standalone one-week summer program. Admission to the Summer Institute does not guarantee a student's eligibility and/or admission to the 4-year certificate program.
Interested in our 4-year certificate program? Visit our website to learn more and access the application.