Information Sessions and College Visits
Information Sessions and College Visits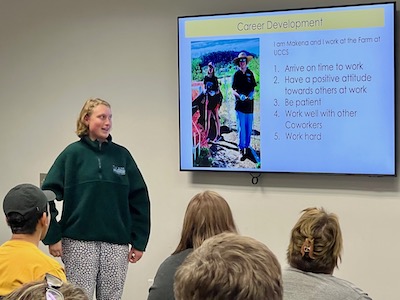 If you're looking for more information about attending UCCS Inclusive Services, applying, or just curious about the program, you've come to the right place! We offer numerous Information Sessions before the application window opens so you'll be ready when that day comes.

Or, we offer a handful of College Visits to give you an idea of what the university is like and meet some of the current students in OIS.
Our staff is small but mighty, and we, unfortunately, can't offer individual or private tours of the campus and classes. The OIS program is an inclusive program, so your students will be in various buildings and classrooms around campus, just like any student. Taking the same classes with UCCS students, eating in the dining halls, playing at the Rec Center, and working at campus jobs. Where they'll be during their days will depend on what they're specializing in. 
If you're looking for a tour, the campus does offer general tours; you can find out more here: Campus Tour. 
Zoom Information Sessions
December 14th - Last one this year!
In-Person Information sessions
There are no more in-person info sessions this year. 
College Visits are Full!

The College Visits for this year are full! Please check out the Info sessions to learn more about UCCS OIS!