Student and Family Handbook
This handbook is provided for families as a reference guide for the Office of Inclusive Services policies and procedures. The handbook is a supplement to the University of Colorado Colorado Springs' regulations and is not a complete listing of all policies, procedures, regulations, programs, and services. All students must follow the UCCS Student Code of Conduct Policies and Procedures. 

Click below to download the Student and Family Handbook.  
Events
Applications are open for the OIS Summer Institute!
https://inclusiveservices.uccs.edu/ois-summer-institute
The OIS Summer Institute is an inclusive higher education (IHE) preparatory experience for rising high school juniors, seniors, and young adults with intellectual disability up to the age of 25.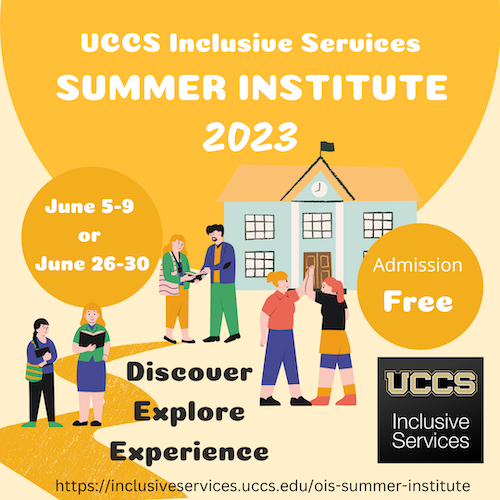 For more information go to the webpage https://inclusiveservices.uccs.edu/ois-summer-institute or contact Julie Harmon jharmon@uccs.edu
Dates & Deadlines
Friday, May 12th, 2023
SPRING 2023 COMMENCEMENT
Date: Friday, May 12
Time: Begins at 10:30 am and 2:30 pm
Location: The Broadmoor World Arena
https://commencement.uccs.edu/upcoming-ceremony
---
December 31, 2023
Application window opens for 2024/2025 Applications.