Student and Family Handbook
This handbook is provided for families as a reference guide for the Office of Inclusive Services policies and procedures. The handbook is a supplement to the University of Colorado Colorado Springs' regulations and is not a complete listing of all policies, procedures, regulations, programs, and services. All students must follow the UCCS Student Code of Conduct Policies and Procedures. 

Click below to download the Student and Family Handbook.  
Events
Information Sessions for the 2024/25 School Year
Learn about the university, applying, paying, classes, etc.!
December 14th - Last one this year!
Thursday, December 14th, 6-7 pm  https://forms.gle/ V3dkzsgpNfizfsHU6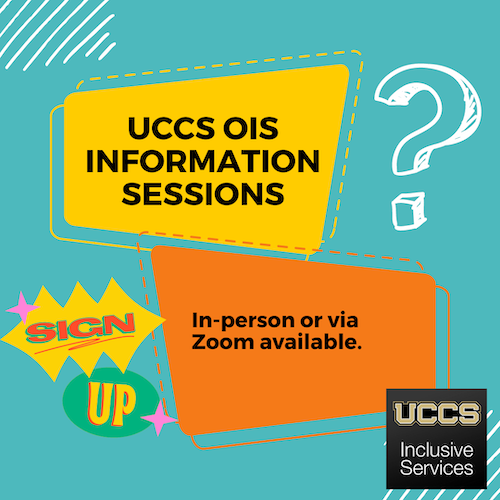 For more information, go to:https://inclusiveservices.uccs.edu/information-sessions-and-college-visits
Dates & Deadlines
Upcoming Information Sessions for the 2024/2025 Academic Year
Find out more here: 
https://inclusiveservices.uccs.edu/information-sessions-and-college-visits
---
December 1, 2023
Application window opens for 2024/2025 Applications